No Place Left Discipleship Class
Telling people about Jesus. It's job 1. The discipleship class teaches how to tell others about Jesus in a simple way that we can take with us any where we go.Classes have begun! Get signed up in the lobby this Sunday!!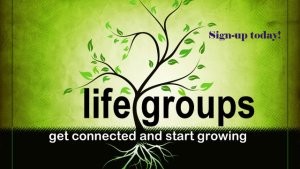 Our Life Groups are the center of what we do. This is where discipleship and relationships happen. We are to be continually growing to be more like Jesus and these groups help us do just that. So if you are not in a group it's a great place to build new relationships, get to know Jesus better and they help us to deal with everyday life. Get connected and sign up for a Life Group!
To Reserve Our Facilities:
We are happy that our building is used for many different events. All building events must go through the main office for scheduling. If you need to borrow chairs or tables please contact the office before borrowing them. You can contact the office at 918-834-4427 or sacc1101@sanduskyave.com
Our Vision
To be a transformed community who develop mature followers for Christ who change the world.
To CONNECT people to Christ, to help them CHANGE to be more like Jesus and lead them to serve and CARE for others.