No Place Left Discipleship Class
Telling people about Jesus. It's job 1. The discipleship class teaches how to tell others about Jesus in a simple way that we can take with us any where we go.Classes have begun! Get signed up in the lobby this Sunday!!
Day of Service
Sunday April 29th!
Every year we take a Sunday morning to go out and help our surrounding community. We are volunteering to help those who might need some muscle to get things cleaned up around the yard for spring. Here's how it works: We will be volunteering our time to rake and bag leaves, clean out gutters, and clean out flower beds. We will also have people at the church praying for the community and that we might have an impact while we are working. Others will be volunteering to help cook a big lunch for all who are involved and for those we invite from the neighborhoods where the work takes place. Get sign up on a team this week and help make a difference in our community!
Drive-Thru Prayer
Praying for others is something we all can do and we are making a way for that to happen. Coming up on Wednesday, May 2nd we will be setting up our Drive-Thru Prayer station in our east parking lot. We will be offering prayer to anyone who wants to pull in. We need sign holders, people who will pray, direct traffic and help encourage others. It will be held from 4:00 pm til 6:30 pm. Sign-ups begin soon in the lobby!!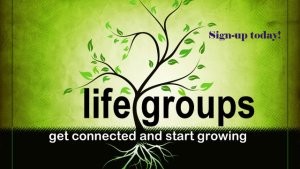 Our Life Groups are the center of what we do. This is where discipleship and relationships happen. We are to be continually growing to be more like Jesus and these groups help us do just that. So if you are not in a group it's a great place to build new relationships, get to know Jesus better and they help us to deal with everyday life. Get connected and sign up for a Life Group!
To Reserve Our Facilities:
We are happy that our building is used for many different events. All building events must go through the main office for scheduling. If you need to borrow chairs or tables please contact the office before borrowing them. You can contact the office at 918-834-4427 or sacc1101@sanduskyave.com
Our Vision
To be a transformed community who develop mature followers for Christ who change the world.
To CONNECT people to Christ, to help them CHANGE to be more like Jesus and lead them to serve and CARE for others.