PURSUE 2:22

Student Ministries
Run from anything that stimulates youthful lusts. Instead, pursue righteous living, faithfulness, love, and peace. Enjoy the companionship of those who call on the Lord with pure hearts.
So many of you, including myself, want to get together during this time. But, to stay safe and virus free, we cannot connect/get together in person until this virus outbreak is over. So, to connect and "get together" with us from now on and especially during this time, please do the following:
This will be the texting service we use to communicate with from now on.
After you download the Remind app, click on this link to connect to our specific REMIND group.
Also, download the ZOOM app on your phones, iPads, & computers. https://zoom.us
Zoom calls/connections will be used for live face to face connections for our Youth Ministry with weekly devos, prayer, some games and to check in on everyone in a group setting.
I will send out the invites to these Zoom sessions via text on your REMIND app. So make sure you and your teen(s) have Zoom and REMIND downloaded to your phones or iPads & computers.
Be watching for that next text & link.
Love ya'll and praying for each of you. Please let me know if I can help you in any way.
We are making some devos available to our students and their families during the quarantine. These are designed for students to use with their families. You can access these by downloading the "CIY CONVOS" app from the Google Play Store or the App Store. It is only available to use on mobile device or tablets but not computers. Once you have downloaded the app at the bottom you will see "My Groups" then click add. Then enter the group code "Family" or "Familia" if you want the Spanish version. This will take you to "Family Convos" then click on it and it will take you to the first devo entitled "Connect." There are 5 devos in all. (Connect, Fear, Hope, Prayer, Purpose) When searching for the app look for this logo: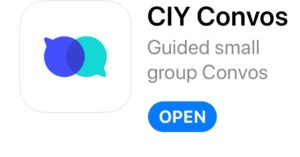 Another resource for students/families can be found at Skitguys.com. Here you'll find some Free videos for the whole family for you to watch while staying home staying safe!! (Wash your hands often…and please shower daily!!)
Sign Up in the Youth Room and Lobby for these events:
Pursue 2:22 Wednesday Night

Life

Group
We are meeting Wednesday Nights for small group from 6-7:30 pm! Get your Social Distancing on and wear a mask!
Sunday Night Group is from 5-7pm. We meet in the basement. Bring snacks to share, some social distancing and your favorite mask!