Just click on each account to download. Enjoy the study!
We are making some devos available to our students,children and their families during the quarantine. These are designed for students to use with their families. You can access these by downloading the "CIY CONVOS" app from the Google Play Store or the App Store. It is only available to use on mobile device or tablets but not computers. Once you have downloaded the app at the bottom you will see "My Groups" then click add. Then enter the group code "Family" or "Familia" if you want the Spanish version. This will take you to "Family Convos" then click on it and it will take you to the first devo entitled "Connect." There are 5 devos in all. (Connect, Fear, Hope, Prayer, Purpose) When searching for the app look for this logo: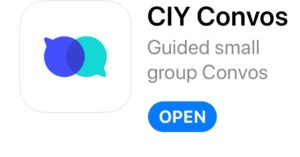 Another resource for children/families can be found at Skitguys.com. Here you'll find some Free videos for the whole family for you to watch while staying home staying safe!!
Download the YouVersion Bible App on your phone, tablet or PC. Once you have downloaded it you have access to many more studies and devotionals. Just click on the link below and it will instruct you on how to download the app!